Welcome to the PRINCIPLE Project website
PRINCIPLE stands for Providing Resources in Irish, Norwegian, Croatian and Icelandic for Purposes of Language Engineering and is implemented by a five member consortium. 
Consortium Members: Dublin City University (Project Coordinator), University of Iceland, Faculty of Humanities and Social Sciences, University of Zagreb, National Library of Norway, Iconic Translation Machines Ltd.

Outline of PRINCIPLE Project
Language Resources (LRs) are collected from data holders and 'early adopters' from each of the 4 countries involved (in the specific domains of eJustice and eProcurement)
Machine Translation (MT) systems are produced from these LRs and evaluated to ensure high quality output
The MT systems are provided to 'early adopters' for free for the duration of the project
'Early adopters' use the MT systems  and provide feedback
Based on MT output evaluation and early adopter feedback, high quality LRs are identified 
Parallel LRs of high quality are uploaded  to the ELRC-SHARE portal in order to improve the automated translation system eTranslation.
Key activities that will be conducted in PRINCIPLE include the following and will be rolled out in specific phases across the duration of the project. 
Activity 1: Project Implementation

Activity 2: Use-case analysis, Data Requirements and Data Preparation

Activity 3: Development, evaluation and deployment of MT systems

Activity 4: Identification, Collection & Consolidation of Language Resources

Activity 5: Exploitation & Sustainability

Activity 6: Dissemination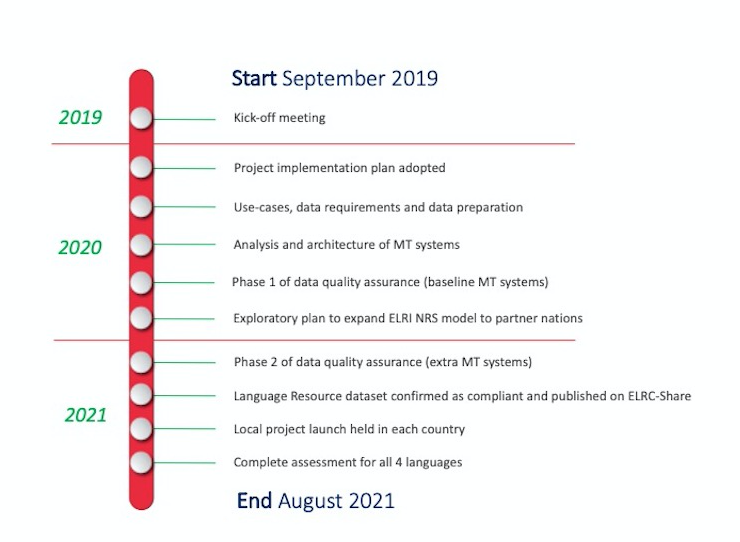 Q1 & Q2 2020 marks the first phase of the implementation plan where the focus is on building use cases, data requirements and data preparation following meetings with early adopters. After this initial phase all partners will continue to liaise with other dataholders in the participating countries to generate interest and awareness of the project through the experience of the early adopters.


Dates for workshops:
To be confirmed in Q1/Q2 2021
Dates for conferences where PRINCIPLE was/will be represented:
PRINCIPLE was presented at the poster session of the XVII Machine Translation Summit, that was held at Dublin City University (Ireland) on 19-23 August 2019, and this paper was published in the conference proceedings: www.aclweb.org/anthology/W19-6718.pdf
PRINCIPLE will be presented at EAMT 2020 in November 2020. A 2-page paper entitled "Progress of the PRINCIPLE Project: Promoting MT for Croatian, Icelandic, Irish and Norwegian" has been published in the proceedings of the 2020 EAMT Conference and is available here (pages 465-466): https://eamt2020.inesc-id.pt/proceedings-eamt2020.pdf

Dublin City University (Ireland) – Andy Way, Project Coordinator (PC), andy.way@adaptcentre.ie
Iconic Translation Machines Ltd. (Ireland) – Dana Davis Sheridan, dana@iconictranslation.com
Faculty of Humanities and Social Sciences, University of Zagreb (Croatia) – Petra Bago, Data Collection Coordinator (DCC), pbago@ffzg.hr
University of Iceland (Iceland) – Gauti Kristmannsson, gautikri@hi.is 
National Library of Norway (Norway) – Jon Arild Olsen, jon.olsen@nb.no